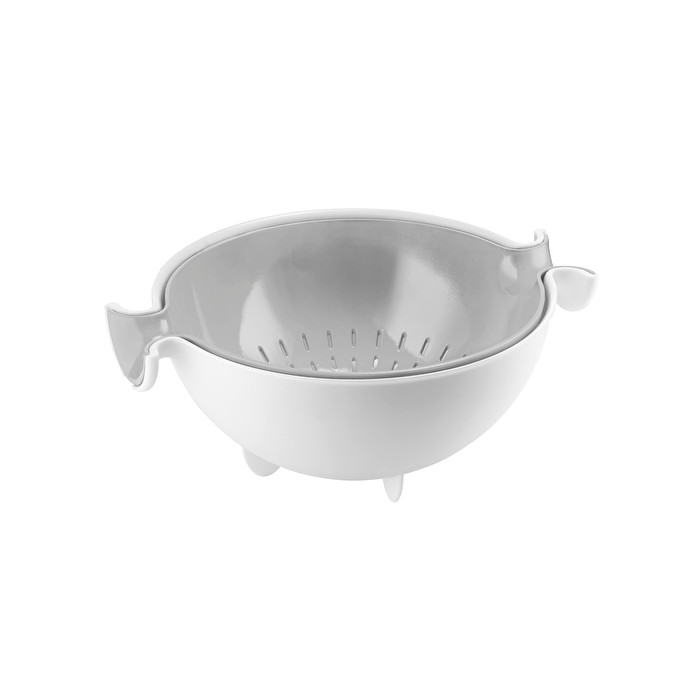 COLANDER AND BOWL SET
Dimension: 30 x 25 x h12,5 cm
Material: PP
Designer: Nilo Gioacchini & Crio Design
DESCRIPTION
Spin & Drain is an innovative, multipurpose product. A bowl and colander set for washing, draining, serving and, if necessary,even defrosting. With a special spin system, it uses the force of gravity to speed up kitchen tasks.
More Information
Color Details
Grey/White
General Icons
Dishwasher safe, Foodstuff products, Certified by the Italian Plastics Institute, Retail packaging
CURA DEL PRODOTTO
Suitable for contact with foods, max 100°C.
Dry immediately after washing with a soft cloth.
PP - Polypropylene is a light, flexible acrylic material which is shatterproof at room temperature. Good resistance to heat. Suitable for contact with foods up to 100°C. It can be placed in a microwave oven to warm ready-cooked foods (Max 400 W - Max 3 Min - Max 100°C). Do not heat foods containing oil, fat or sugar in the microwave, since their temperature could exceed 100°C and damage the product. Dishwasher safe. Recyclable.