LEMON JUICER AND ZESTER SQUEEZE&GRATE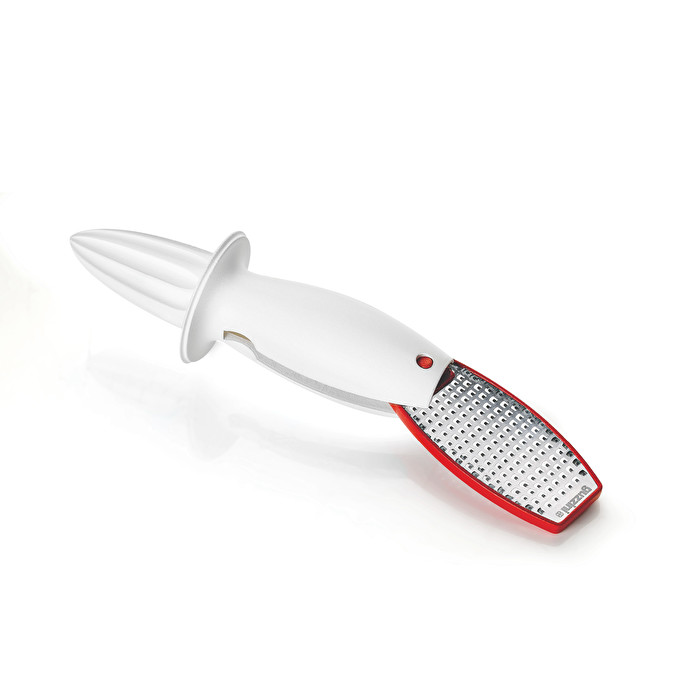 LEMON JUICER AND ZESTER SQUEEZE&GRATE
Dimension: 6 x h16,5 cm
Material: PP, ABS, STAINLESS STEEL AISI 304 (18/10)
Designer: Niklas Jacob
DESCRIPTION
Two functions in a single utensil: an all-in-one lemon juicer and zester.
More Information
General Icons
Dishwasher safe, Foodstuff products, Certified by the Italian Plastics Institute, Retail packaging
CURA DEL PRODOTTO
Dishwasher safe at max 65°C.
Dry immediately after washing with a soft cloth.
ABS - Acrylonitrile Butadiene Styrene is an acrylic material with good impact strength and fair resistance to heat. Dishwasher safe. Recyclable.
PP - Polypropylene is a light, flexible acrylic material which is shatterproof at room temperature. Good resistance to heat. Suitable for contact with foods up to 100°C. It can be placed in a microwave oven to warm ready-cooked foods (Max 400 W - Max 3 Min - Max 100°C). Do not heat foods containing oil, fat or sugar in the microwave, since their temperature could exceed 100°C and damage the product. Dishwasher safe. Recyclable.
STAINLESS STEEL AISI 304 (18/10) - 18/10 stainless steel (AISI 304) is resistant to staining. It has high resistance to oxidation and chemicals. Its surfaces are very shiny. Dishwasher safe at MAX 55°C. Keep separate from knives during the wash cycle. The original shine can be restored by polishing with specific products. Recyclable.