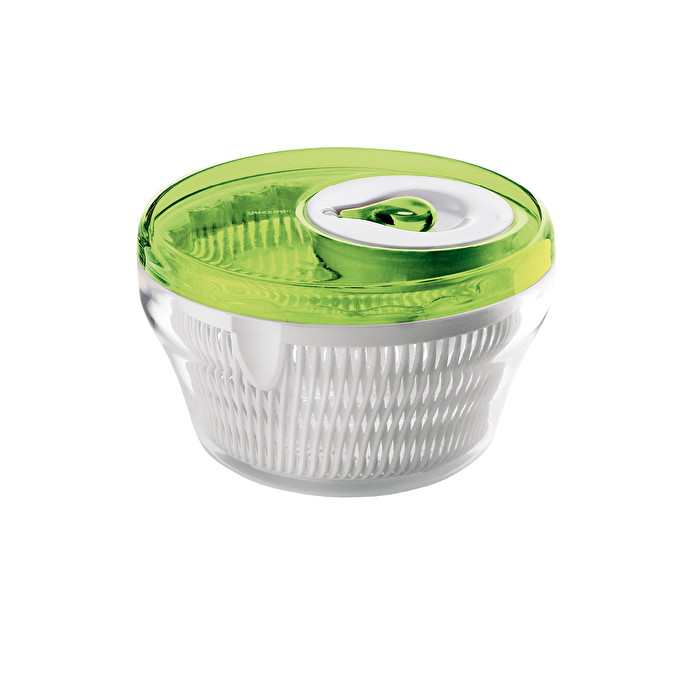 Salad Spinner
Dimension: Ø28 x h18 cm
Material: SAN, PA, PP, TPR
Designer: Dario Tanfoglio
DESCRIPTION
The new Latina salad spinner meets the needs of modern houses with its reduced dimensions. The clear plastic material enhances the soft lines of this article determined by an innovative design and available in two sizes.
More Information
General Icons
Dishwasher safe, Foodstuff products, Certified by the Italian Plastics Institute, Retail packaging
CURA DEL PRODOTTO
Dry immediately after washing with a soft cloth.
PA - Polyamide is a material with high thermal resistance (Max 175°C). Impact resistant. Good scratch resistance. Variations in temperature and contact with high temperatures do not impair the product's functionality or safety. Dishwasher safe. Recyclable.
PP - Polypropylene is a light, flexible acrylic material which is shatterproof at room temperature. Good resistance to heat. Suitable for contact with foods up to 100°C. It can be placed in a microwave oven to warm ready-cooked foods (Max 400 W - Max 3 Min - Max 100°C). Do not heat foods containing oil, fat or sugar in the microwave, since their temperature could exceed 100°C and damage the product. Dishwasher safe. Recyclable.
SAN - Acrylonitrile Styrene is an acrylic material with good transparency and excellent resistance to chemicals. It has fair resistance to heat (MAX 70°C) and scratching. Dishwasher safe. Recyclable.
TPR - Thermoplastic rubber is a very soft, flexible material. It adheres strongly to the supporting surface. Dishwasher safe. Recyclable.